This week I finally got around to a project that I've been wanting to accomplish since… um…. 2001? 2002? Yeah. I'm not a procrastinator at all. Better late than never, right? I have an ulterior motive that really spurred me to get them finished. More on that later.
I created these DIY succulent wreaths today in just a few hours, and I wanted to show you how to do them yourself!
Here is a quick run-down of what you'll need for this project:
Urban Outfitters wire letter or other wreath form: $10.00
Sphagnum moss: $5.00
Succulents: $20-25 depending on the amount and types (or FREE if you know of a succulent gardener willing to share clippings!)
Sand/Soil/pen/other miscellaneous equipment: Free- use what you have.
Leftover wired ribbon: So old it's free
I'm just so completely in love with the way that these turned out. If you can't tell from the first photos- they are initial wreaths! One letter for each person in our family.
I found these wire frame letters at Urban Outfitters, and my mind immediately wandered to the awesome succulent wreaths I had been pinning on my pinterest boards. So, I knew what I had to do. I decided to get an initial for all three of us – B for me, G for Garrett and J for J.
I needed something to hold the succulent stuff inside the frames, so instead of a wire mesh (which I didn't have on hand) I decided to use this ribbon that's been sitting in my craft room since 2005.
There wasn't really any rhyme or reason to how I attached it.
I just secured it to a piece of the wire:
Then looped it over and over to form a trough inside the letters to hold the moss and dirt inside.
Just make sure you make the indention of the trough on the correct side of the letter so you don't look illiterate. Whoops.
After a little bit of a do-over, I got it right the 2nd time.
Next came the succulent purchasing. I went to Lowes and bought a big assortment that caught my eye. I tried to vary them in color and texture so they would contrast each other once they were stuffed inside the wreath form.
Here are the different succulents I used for this project:
A. Hens and Chicks
B. Echevaria Alegra
C. Sedum Brown Bean
D. Echevaria Lola
E. Echevaria Mazarine
F. Baby Toes
G. Crassula "Springtime"
H. Stone Faces
I. Echevaria Dondo
J. Mini Blue Chalk Fingers
K. Split Rock
L. Sunrise Plant
M. Echevaria Subsessillis
N. Pachyphytum Brachteosum
I used sphagnum moss for the lining of the wreath forms. NOTE: wear gloves when working with sphagnum moss because it can contain some kind of bacteria that can do grody things to you if you have an open cut.
You can buy a block of long fibered sphagnum moss in the garden center. The blocks come dried out so you have to soak them to get the moss to poof back up. I used an empty flower pot since all my buckets were full.
As I was filling the container with water I used the garden hose to poke the moss around and break it up.
Until it becomes a big pot of sphagnum stew. Let that soak for a while (an hour, preferably, but 15-20 minutes will work.)
Then I took a few scoops of potting soil and mixed in a few scoops of play sand.
I honestly just guesstimated this part because I've read differing opinions on whether this step is needed in a succulent wreath.
Here are all of my ingredients ready to be assembled.
Take a handful of moss and squeeze out the excess water. Don't forget to wear gloves. Or a ziploc bag if you have recently donated all of your gloves to people in need. 🙂
Spread a layer of moss in the bottom of your wreath form. Pack it in there really good. You'll be surpised by how much moss you can stuff into these wreaths! Don't skimp. This is what will support the succulents and also give them water.
Next comes a layer of your sand/soil mixture.
Then another layer of the moss on top.
I looked around for twine or jute or wire to wrap around my form but all I could find my garden supplies was this twist-tie stuff. It was way green, but it worked. I decided to use it.
And wrapped it all around the form to hold my sphagnum/sand/soil sammich together.
Next I shook my plant roots around in water to get most of the dirt off of the roots. After a while I decided it was easier to run the roots under the hose and rinse them off instead of this bowl/ dipping method.
But either way you want to knock off most of the dirt from the roots.
If you are gentle when you will likely be able to separate the roots of the plants into multiple plantings which is great for a wider variety of texture in your wreath.
Then it's time to start planting! Use a pen, pencil, screwdriver or anything else small and pointy to bore a hole in the moss in a circular motion. Create an opening big enough for your roots.
Then guide the roots inside the hole with the pen and situate the plant in firmly. Push the moss back up and around each plant to give it a firm bed.
Then just repeat that process over and over until you have all your plants placed inside the moss!
Be mindful of your colors, textures, heights and widths of the plants.
Remember they will grow so leave some space between each one. (Even though I don't follow my advice on that one most of the time.)
I used hens and chicks as my filler flowers. They are much cheaper than the other succulents because they spread fast and are hard to kill. All of my hens and chicks were over grown so I pruned back a bunch of the dead leaves from around the base. Here is what they looked like before:
With a twist around the base I was able to clean off the dead leaves.
And with a quick rinse they look like this underneath:
I just kept stuffing plants in there until it looked pretty. There is not pattern or "right" way to do it. Just arrange it however you like it.
Just consider how your letters are shaped and how the flowers will best follow that shape naturally. Here is my finished "B". I added a bow on top to pretty her up a little bit.
I also made sure I added the pink and flowery ones to my letter since I am the girl of the family. 🙂
The "G" has some really unusual plants in him.
I love the one that looks like a split rock. Conveniently named "split rock".
The "J" was a little manlier, too, with more plants that look like rocks. I am so in love with the way these guys turned out!!
Wouldn't these look great as initials at a rustic wedding reception?? Swoon. What a unique gift you could make for someone.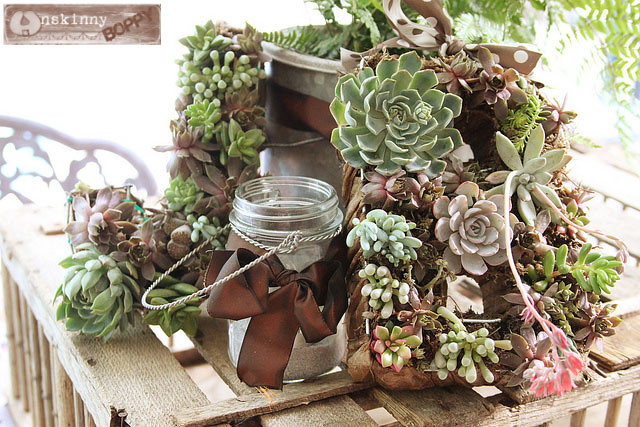 My plan is to hang these wreaths somewhere around my patio or pool. The advantage of succulents is that they can be indoors OR outdoor plants. They are so low maintenance.
I need to pin some of these guys in place and also let them lie flat for a few weeks to let the roots take hold before I hang them for good, but this gives you an idea what they will look like when they are hung. I just love them.
These wreaths look great separate or you can bundle them all together for even more impact. You will lose the letter shapes if you place them close together, but they do give you quite a WOW factor!
According to Better Homes and Gardens, here are some tips to care for your succulent wreath:
After planting, keep the wreath out of direct sunlight for a week. Gradually increase light levels to full exposure. In the hottest Zones, protect plants from midday sun. Indoors, set your succulent wreath in a south-facing window, greenhouse, or garden room
Water your wreath when it feels dry — every three to 10 weeks, depending on temperature and lighting. Soak the wreath in a container of water for at least one hour. Avoid misting or surface-spraying your wreath; this encourages shallow rooting, which weakens plants.
Hang your wreath using galvanized hardware to prevent rust. If you'll be displaying your wreath on a wooden surface, such as a door, consider covering the back of the wreath with plastic attached with crafts pins to protect the wood from moisture.
Source- BHG.com
So there you go! The longest post in the history of the world showing you how to make your very own succulent wreath. If you're a sucker for succulents like me, you will love planting one (or three!) of these in your garden!

Now for the exciting part!! Click here to find out how you can win one of these succulent wreaths for yourself during the Restore Alabama Online Community Auction and Fundraiser! I am going to be auctioning off a custom made succulent wreath to the highest bidder, and ALL proceeds will go to the tornado relief efforts here in Alabama! I'll take all the hard work out of it for you, as long as you're willing to open your wallets and battle it out for the highest bid!