Hey friends!
This week I'm virtually road-tripping around the South with a whole bunch of great bloggers for The Great Southern Road Trip.  We will be linking up all sorts of fun southern inspired posts for y'all to enjoy, sip and savor.
So, grab your mason jar of sweet tea and let me take you on a tour of my hometown, Birmingham, Alabama.
I've drawn you a fun little map to help you get your bearings around town.  To the south is Red Mountain, to the West sits Legion Field (home of countless Iron Bowls), to the north is the Civic Center/ Concert Hall and to the East is Sloss Furnace. This doesn't come close to showing all the things there are to do in Birmingham, but it hits the highlights and I sure did have fun drawing it!
Over the past few decades, Birmingham has made HUGE strides to revitalize itself into a thriving little city without sacrificing any southern hospitality and charm. Today it has SO much to offer both locals and tourists, young and old.
Ready to see my city? Lezzzgo…
1. Visit Vulcan Park
Let's start with everyone's favorite Iron man… Vulcan.  You cannot go very far in Birmingham without getting a peek at the giant cast iron statue atop Red Mountain. Vulcan, the Roman god of metalwork, is a 56 foot tall statue that made his debut at the 1904 St. Louis World's Fair.  He was brought home to Birmingham where he has pointed his shaft (shank? What exactly is that thing, Vulcan?) at the sky ever since.  Only in Birmingham can you can ride an elevator to the top of a tower and take in the views of the whole city while standing beneath the bare buttocks of a cast iron man.
(Don't be fooled by that kilt he's wearing.  It's business in the front and party in the back.  There's a full moon back there, trust me.)
2. Eat. And Eat. Then Eat Some More
Speaking of full moons, don't miss out on the great barbecue restaurants that Birmingham has to offer.  You can't throw a rock in Birmingham without hitting a barbecue joint or a Baptist church, but here are a few of the favorite BBQ restaurants that should be at the top of your bucket list:
Full Moon, Demetri's, Jim-N-Nicks, Saw's Soul Kitchen or Dreamland BBQ.
If you have to choose just one, go for Dreamland.  They are probably the most famous. But Saw's is giving them a run for their money these days.  EVERY local person I asked when doing a bit of research for this post recommended Saw's Soul Kitchen in Avondale.  So, maybe do Saw's first!
If you're not from the South, you might be confused by a little term we use to describe our favorite soul food restaurants.  It's called a "Meat-n-Three".  This means you get to pick up a tray, cafeteria-style, and choose which meat and three vegetables you want on your plate, along with a side of cornbread or roll. Dessert is extra.  So, if you're looking for some meat-n-three goodness, be sure to visit any of these no-frills places while you're in town.
Niki's West  | Johnny's  |  Ted's  | Irondale Cafe
For real,though.  I could write an entire book about the places to eat in Birmingham.  If you can't tell yet– we like to DINE up in here.  It's just what we do. Unfortunately I cannot list all the excellent local choices in one blog post.
But, if you're looking for somewhere a bit fancier, do not miss out on a chance to eat at any of the restaurants owned by Chef Frank Stitt. This dude has been putting Birmingham on the culinary map along with Chef Chris Hastings since the last century. OK, it was actually like the early '90's but whatever. You will not go wrong eating at any of these local restaurants owned by these two chefs in the Bham metro:
Hot and Hot Fish Club  |  Highlands Bar and Grill  |  Bottega  |  Chez FonFon
3. Pepper Place Market
Now that we're done chowing down, let's go walk it off around town.
If you happen to be visiting on a Saturday morning between April through December, you MUST go visit Pepper Place Market.
It's a giant Farmer's Market with vendors that not only includes farmers but also local makers selling their wares (and more food of course). Every Saturday morning Pepper Place shuts down 29th Street and 2nd / 3rd Avenue South between the old Dr. Pepper bottling plant and the old Martin Biscuit Company.  Nowadays these two buildings are a hotbed of creative genuises (including the new Country Living Magazine headquarters) but on Saturday mornings it is the best Farmer's Market in the Deep South. You can get everything from grass-fed meat to mushrooms along with live music and a festive atmosphere.  I adore Pepper Place but so does everyone else in town, so prepare for big crowds in the summer.
4. Take Home a Souvenir
For the best Birmingham swag to commemorate your trip to the Great State of Alabama, be sure to head to the Maker's Village at Pepper Place.  I spotted all of this amazing Birminghamorabilia there:
If Maker's Village isn't open, you can purchase direct from these seller's websites:
Jill Marlar Birmingham Landmark Pillows  |  Wooden Alabama inlaid with turquoise, dishtowel and cutting board by Digs Design  |  1871 Project screenprinted banners and t-shirts
5. Shop Downtown Homewood
Homewood is just over Red Mountain from downtown. Just go straight past Vulcan's butt and you'll run right into it. Can't miss it.
Park anywhere and start shopping.
18th Street in Homewood offers some of my favorite window-shopping stores including At Home Furnishings, Seibels, Alabama Goods. Penzey's Spices, Homewood Toy and Hobby Shop and Nadeau Furniture . Be sure to do lunch at O'Carrs Delicatessen for the best chicken salad and fruit plate of all time.  Gahhh, I did not mean for this post to be all about food, but come on….
6. Got Kids? Try the McWane Center, the Zoo or the Botanical Gardens
The McWane Science Center is a great place to spend the day with kids.  They sneak in lots of learning experiences right in the middle of all the fun so the kids don't even realize it's making them smarter.  There's also an IMAX theater.  The Birmingham Zoo and the Botanical Gardens are right down the road, and both could easily take the better part of a day to walk through.
7. No Kids?  Try a local brewery
Birmingham is chock full of local breweries, but two of the best flank the city on either side –  Avondale Brewery on the east and Good People Brewing Company on the west.  Go and sip a spell.
8. Take me Out to the Ball Game
Right across the street from Good People Brewing sits the brand new Region Field. The Birmingham Barons are now playing downtown at this beautiful field, and it is NICE, y'all.  This part of town used to be a barren wasteland, but they have stepped up their game and built a HUGE new baseball stadium with the best Birmingham signage in town.  There are lofts going in all around this part of town, and it's making a major comeback so definitely add this to your must-see list.
9. Visit Railroad Park
Right down the street from Regions Field is a massive green space that was recently built to rejuvenate a formerly not-so-nice area of town. Railroad Park offers a huge walking/ bike path, skate park, picnic areas, koi ponds and just a big safe place to run around outside.  It's just a few blocks away from Children's Hospital, which is super convenient for any family spending an extended amount of time there.
10. Find the End of the Rainbow
As you can see on my cartoon map- the train tracks divide Birmingham down the middle into the north side of town and the south side of town. A few years ago Lightrails were added to brighten up the tunnels that run under the viaducts.  This one is the 18th street viaduct right at the end of Railroad Park.There are quite a few of them now, and they make for a pretty cool photo op.
11. See a Movie at the Alabama Theatre
There is no better place to see a movie than inside this grand old movie palace.  It is simple spectacular, and you have not lived until you experience it.  My very first trip to the Alabama Theatre was to see Gone with the Wind when I was 9 years old, and I will never forget it.  Put this on your list near the top.
12. Learn Birmingham's Black History at the Civil Rights Institute
Ok, folks. This one is a big one.  If you do nothing else while you're here in town, the Birmingham Civil Rights Institute is a must-see stop on your trip.
Birmingham has a long and difficult history with racism, but the Civil Rights Institute faces it head-on, without embarrassment or bias.  All of our awful racial scars are revealed in this place that sits right across the street from the 16th Street Baptist Church where four young black girls died from a bomb blast by the KKK in 1963.
On the other corner sits Kelly Ingram Park, where Reverend Martin Luther King, Jr. joined Reverend Shuttlesworth in the marches to end segregation.  The Civil Rights institute addresses all of this unflinchingly, with dignity, and in a way that brought me to tears over and over again during our 2 hour visit.
They open the tour with a 10 minute video that ends with a photograph of the "white" and "colored" public water fountains from the pre-segregation days.  Then the curtain rises, and the ACTUAL water fountains are sitting there where the photograph had been.  So many chill-bumps.
In 1968 my mother was working for the phone company downtown just a few blocks from where the Institute sits today, and she was well acquainted with fountains like these. The tour guide asked our group to spot the differences between the two fountains.  All the obvious answers were stated, then my mother pointed to the "white" fountain and said "This one had cold water, and the other had hot."  The water from the "colored" fountain was not refrigerated, so it would sit in the sun until the water in the metal pipe underneath was near boiling temperature on a hot summer day.
I could go on and on with stories from our trip to the Civil Rights Institute, but let me just say PLEASE go and visit this place.  Whether you are a tourist or a local who has never visited before, it is imperative to learn about the history of this city and our nation so we can avoid the same mistakes in the future.
We are just one generation past all of these awful events, but we have come so far.  The people of Birmingham today are not the people of the past. Today we are a city that loves our neighbors and welcomes visitors with open arms.
It truly is a magical city.
Please come see us sometime soon!
The Great Southern Road Trip begins with Heather at Southern State of Mind.  Be sure to start with her post and visit all the stops along this fun virtual road trip! You can also follow along on instagram or facebook by searching #greatsouthernroadtrip.
Now drive on over and tour Texas Hill Country with my friend Rachel at Maison de Pax!
Visit all the stops on the road trip here:

THE GREAT SOUTHERN ROAD TRIP ITINERARY
Southern State of Mind {Atlanta, GA} | Restless Arrow {Belton, SC}
Southern Hospitality {Marietta, GA} | Our Southern Home {Caswell Beach, NC}
TUESDAY ROUTE: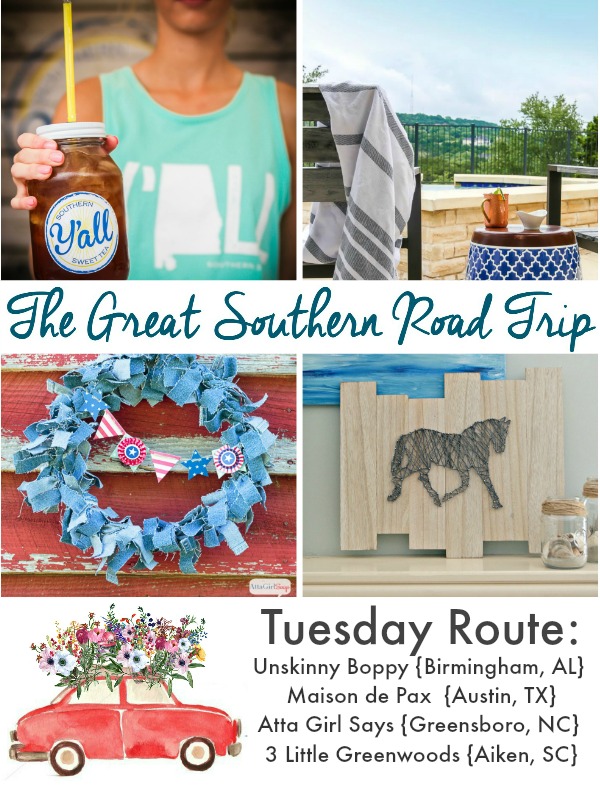 Unskinny Boppy {Birmingham, AL} | Maison de Pax {Austin, TX}
Atta Girl Says {Greensboro, NC} | 3 Little Greenwoods {Aiken, SC}
WEDNESDAY ROUTE:
Dixie Delights {Savannah, GA} | Slightly Coastal {Fernandina Beach, FL}
Uptown Acorn {Grand Isle, LA} | The House of Wood {Nashville, TN}
THURSDAY ROUTE:
11 Magnolia Lane {Southern Pines/Pinehurst, NC} | The Turquoise Home {Huntsville, AL}
Duke Manor Farm {Pendergrass, GA} | Domestic Charm {Charlotte, NC}
FRIDAY ROUTE:
Our Fifth House {Charleston, SC} | At Home with the Barkers {Greenville, SC}
Simple Stylings {Mount Pleasant, SC} | Refresh Restyle {Bishop, GA}